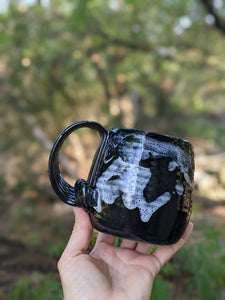 Drippy black and white glaze creates a smoky effect on this handmade mug. Every mug and handle is hand sculpted with small coils that are combined together to create a strong handle and design. No two are identical.  Mugs are made to order and will be shipped in 3 weeks or less. Each mug will have a spiderweb design on the bottom. Please leave a note during checkout if you DO NOT want a spider web.

Reminder: Each mug is handmade which means there will be slight variations to the mug you receive from the item pictured. 
Dimensions: 3.5" H, 3.5"W
Care: Hand washing is always recommended to prolong the life of your handmade piece.